10 Tips for Dealing With Caregiver Stress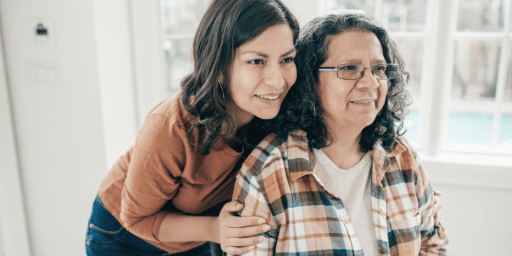 More than 43 million adults in the U.S. serve as caregivers to family members or friends who are living with a medical hardship like cancer. The pressure of caregiving takes a toll.
"Caregiver Burnout" is a serious consequence of ongoing care. Caregivers report higher levels of stress, illness, and physical exhaustion. These tips can help you cope with the added responsibility of caring for others and help minimize burnout.
What are the signs of caregiver burnout?
These signs may indicate that you are experiencing caregiver burnout:
Trouble sleeping
Anxiety
Depression
Lethargy
Anger
Abusing alcohol or drugs, including prescription drugs
Resentment toward the person for whom you are caring
Inability to concentrate
Feeling isolated
Lack of coping skills, such as lapses in self-care or not setting boundaries
Neglecting your own responsibilities
10 ways to deal with caregiver stress
Here are some ideas on how to get ahead of the problem:
1.      Focus on what you can do, not on what you cannot do
Why it helps: You may feel guilty that you are unable to do everything your loved one needs each day. It is perfectly normal to feel this way, but having unrealistic expectations of yourself is counterproductive.
What you can do: Stick to your strengths, whether you are a good cook, have a head for handling bills, or can help your loved one get dressed. Utilizing your strengths is the best way to be of help.
2.      Ask for help
Why it helps: Nobody can carry the burden of caregiving alone. Enlisting the help of family and friends builds a support network you will lean on. You are likely surrounded by people who are willing to pitch in, but they do not know what you need unless you speak up.
What you can do: Mend Together offers free tools that make it easy to organize support. The Community Journal, Volunteer Calendar and Gift + Cash Registry tools make it easy to share precisely what you need. Friends and family can offer words of support, make gift + cash donations and volunteer time for specific needs like preparing a meal,  offering a ride or picking up prescriptions.
3.      Join a support group
Why it helps: Nobody understands what you are going through quite like another caregiver. Support groups run by mental health counselors or social workers can help you connect with others who share similar struggles.
What you can do: Your hospital or caregiver advocacy group is a good place to research groups. In-person and online support groups are available, many of which are tailored to the type of support you are giving, such as supporting someone with breast cancer. Sharsheret offers support education information, including many different Facebook support groups. Click here to see a list of groups that may be appropriate for you.
4.      Phone a friend
Why it helps: If attending a support group feels intimidating, speaking with a friend can help process the experience of caregiving. This can also help you get in touch with someone quickly when you are feeling overwhelmed.
What you can do: Check in with at least one person on a weekly basis. With these regular check-ins, you are less likely to feel like you are bottling your feelings.
5.      Establish a routine
Why it helps: Breaking down a mountain of tasks into manageable bits can help you better visualize a seemingly never-ending to-do list. This also ensures that you do not feel overwhelmed or forget important tasks.
What you can do: Work on time management skills to help ensure essential tasks are completed each day. It is important to take  care of yourself so you can  meet your loved one's needs.
6.      Practice meditation or yoga
Why it helps: Meditation and yoga help calm our nervous systems and center our thoughts.
What you can do: Accessible techniques like meditation or yoga can be done anytime at home. A few minutes spent meditating or trying some gentle yoga can set the right tone for the day ahead or help you unwind at the end of a particularly challenging day.
7.      Take time off from work
Why it helps: Taking a step back from other priorities can help you focus on your loved one's needs and resolve some of your most pressing worries.
What you can do: You may be eligible to take time off under the Family Medical Leave Act, which allows some employees to take up to 12 weeks off (unpaid) without risk of losing your job. Additionally, some employers may offer benefits to take medical leave to provide care. Speak with your employer for specifics.
8.      Learn to set limits
Why it helps: Extra tasks on top of your own responsibilities and your duties as a caregiver can be particularly draining. Learn to gracefully decline activities that feel like extra burdens instead of enjoyable activities.
What you can do:
"All the attention is typically on the patient and everyone forgets about the caregiver. It's often harder to watch someone go through a hardship than to go through it yourself. When you're watching you feel completely helpless, there is very little you can do to influence the outcome. I designated a day when someone else came to take the caregiver out so the caregiver can have a life outside of the caring. When you are a caregiver the days all run together. Having something to look forward to brings back the cadence of time. Giving the caregiver a weekly break is not only humane but gives the caregiver something to look forward to on a weekly basis and breaks up the monotony."
— Lisa Lefebvre, Mend Together Founder and 2x cancer survivor
9.      Take advantage of free resources
Why it helps: Free resources such as transportation, housekeeping, meal delivery, and care packages can help lessen the amount of work you need to complete for your loved one each day.
What you can do: Connect with a cancer support group or a social services center to learn about the options available to you.
10.  Find time to prioritize yourself
Why it helps: Putting yourself last while caregiving is a common phenomenon and  is a sure way to guarantee that you will experience caregiver burnout.
What you can do: Schedule in advance which days or times you would like to take off. Ask in advance for someone else in your network to be available those days. Knowing your loved one will be cared for while you are away can help alleviate any guilt you may feel about taking time for yourself.
As you build your own support network, reach out to groups like Sharsheret that can offer resources for you and your family to help you best manage your time spent — and  mental health while being a caregiver.
Mend Together provides valuable, time-saving tools that can help you properly manage the resources at your disposal. The Mend Together Community Journal allows you to share key updates about your loved one.  You can also help your friend or family member set up a Gift + Cash Registry where they can add helpful products and cash funds that can help them physically, mentally, and spiritually after a cancer diagnosis.
When you create a registry with code SHARSHERET$100, you will receive a free Sharsheret Breast Cancer or Ovarian Cancer Survivorship kit which includes free gifts and resources plus a $100 Mend site credit. Mend Together will also donate $30 to Sharsheret to support our mission!
It is important to remember that no caregiver is alone. Whether through useful tools through Mend Together or support groups like Sharsheret's, there is help out there as you navigate these difficult waters.
::
About the author: Stella Morrison is an award-winning journalist who partners with mission-driven companies to share their stories. She is based in New York City.