Sharsheret in the Kitchen – 3 Healthy Dishes to Prep for Rosh Hashanah
September 9, 2020 @ 2:00 pm
EDT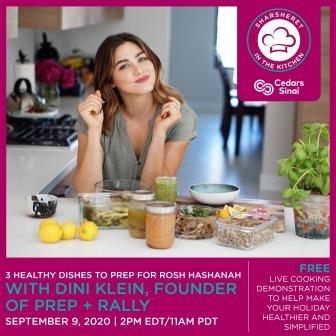 Join Sharsheret in the Kitchen for a free, live cooking demonstration with Dini Klein, Founder of Prep + Rally, to help make your holiday healthier and simplified. This program is part of the "Sharsheret in the Kitchen" series, which brings nutritious kosher meal options to our holidays to help empower all of us at risk for breast and ovarian cancer to make healthy diet choices. For more information, please contact Sarah Eagle.
Click here to register.
This program is made possible in partnership


This program is made possible with generous support from The Siegmund and Edith Blumenthal Memorial Fund and The Cooperative Agreement DP 19-1906 from the Centers for Disease Control and Prevention.
Dini Klein is a Los Angeles based food host, recipe developer, former private chef, mom of three, and founder of Prep + Rally.
She started her professional career in fashion, and quickly found that creative outlet in food.
After working as a private chef for seven years she found a solution to a problem many families (including her own) were facing. Getting a wholesome dinner on the table while working full-time was almost impossible and she needed a solution. Prep + Rally was born.
Creating food content is Dini's other passion and she's worked with brands such as Walmart, Starbucks, Weight Watchers, Popsugar, Barilla, and more. She's a Tastemaker on Tastemade where she develops food videos, and recipes for their social channels, and has her videos featured on Roku, Amazon, and Apple TV. Her recipes have been published in cookbooks such as Starbuck's Coffee, Dawn to Dusk, and Pediatrician's Guide to Feeding Babies and Toddlers. Some of her live TV experience has been on KTLA , The Hallmark Channel , KSDK, and The CW.
Dini lives in Los Angeles with her husband Mike, and their three kids.
Please reach out to [email protected] with any questions and follow @prepandrally on Instagram for more!