Sharsheret's Young Professionals Circle NYC: An Evening of Wonder
February 8, 2020 @ 8:30 pm
EST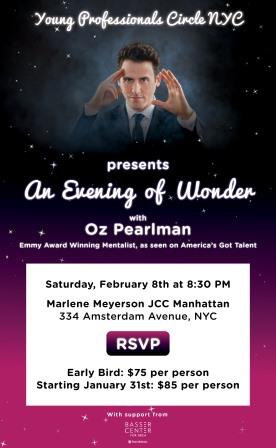 Join Sharsheret's Young Professionals Circle for an Evening of Wonder, featuring Oz Pearlman. Light dairy buffet dinner and drinks will be served.
Couvert is $75 per person. Starting January 31st, couvert is $85 per person.
Please contact Sarah Eagle at [email protected] to join the committee, sponsor the event, or with any questions. Register here.
Evening Schedule:
8:30 PM: Cocktails and dairy dinner
9:15 PM: Meet Oz Pearlman
9:45 PM: Program begins, dinner and doors close
10:45 PM: Dessert
Event Committee:
Leora and Sam Cappell

Emma del Sol

Edith Englard
Dara and Corey Fersel
Molly and Jordan Gellman
Rebecca Genack

Dana and Marc Gibber
Jessica Goldman
Lisa Goldsman
Amanda Goldsmith
Brianna and Jeremy Goldstein

Alexandra Gordon

Zahava Horowitz
Alex Kaszovitz

Riva Kestenbaum
Lini and David Klatt
Danielle and Yadin Koschitzky

Sarah and Hillel Kramer

Tzipora Leiser

Cara and Cal Major

Rebecca Zagha and Benji Markoff

Sarah and Mike Neustein

Devorah and Cary Oved

Racheli and Tzvika Poleyeff

Samantha and Samuel Rochlin

Elianna Sable
Sammy Schwartz
Sydney Silvermintz
Debra and Tal Singer
Marci Soifer
Talia and Benji Strulowitz
Libby Unger
Jamie Herenstein and Ethan Walfish
Goldi Weiser