The Talk: Discussing Ovarian Cancer with Family Members
July 29, 2020 @ 8:00 pm
EDT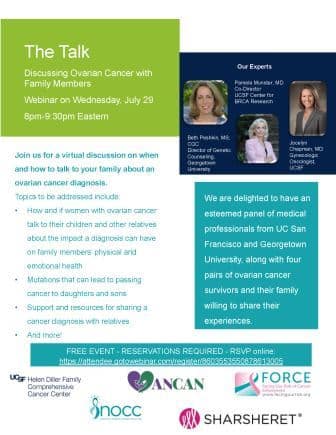 Join us for a FREE virtual discussion on when and how to talk to your family about an ovarian cancer diagnosis.
Topics to be addressed include:
• How and if women with ovarian cancer talk to their children and other relatives about the impact a diagnosis can have on family members' physical and emotional health
• Mutations that can lead to passing cancer to daughters and sons
• Support and resources for sharing a cancer diagnosis with relatives
• And more!
Expert speakers include: Beth Peshkin, MS, CGC Director of Genetic Counseling, Georgetown University, Pamela Munster, MD, Co-Director UCSF Center for BRCA Research, and Jocelyn Chapman, MD, Gynecologic Oncologist, UCSF.
This webinar is in partnership with UCSF Helen Diller Family Comprehensive Cancer Center, National Ovarian Cancer Coalition, FORCE and ANCAN. For more information, please contact Jenna Fields.
Click here to register.