Wednesday, July 19th in Lawrence, NY
| | | |
| --- | --- | --- |
| | | |
Thursday, July 20th in Englewood, NJ
EVENT CHAIRS & COMMITTEES
LI Benefit Chairs 
Drs. Tammy and Hillel Bryk
Debbie and Dr. Hal Chadow
Sara and Dr. Duvy Goldberg
Riva and Eli Goldschmiedt
Julie and Dov Gross
Neera and Michael Kimmel
Ilana Scheiner Kroll and Jonathan Kroll
Naomi and Steven Levinson
Jeremy Merrill
Baruch Pelcovitz
Jayne Altman Rosenthal and Joe Rosenthal
Elana and Rafi Rosman
Dorit and Larry Schwartz
Esther and Dr. Dov Zeidman
LI Benefit Committee
Jackie and Sael Abecassis
Rivka and Zusha Agin
Chani and Michael Barenholtz
Randi Barenholtz
Eve Baruch
Zahava and Roni Benjamini
Karen Blatt and Ari Hirt
Judy and Dr. Brett Blatter
Laurie and Matt Block
Sara and Harry Bodner
Reva and Yumi Borgen
Rena and Dr. Bentzy Chill

Suzanne and Jeremy Crane
Rachel and Gregg Duftler
Rachel and Benjamin Feintuch
Michele and Donny Frenkel
Sura and Bert Fried
Wendy and Chaim Frucher
Sharon and Dr. Sheldon Genack
Jennifer and Benjamin Gertelman
Erica and Bryan Giller
Pearl Ginsburg
Hillary and Avi Goldberg
Barbara and David Goldenberg
Chani and Jeremy Goldfeder
Talia and Sol Goldwyn
Rina and Yaakov Greenwald
Suzanne and Barry Gurvitch
Jordana Hirschel
Debbie and Robert Hollander
Aliza and Avi Katz
Shari and Adam Kaufman
Avi and Dayna Klinger
Tami Secunda Kramer and Greg Kramer
Vivian and Nikolas Kron
Alice and Adam Kwitkin
Rachael and Daniel Lifschutz
Judy and Richard Lillien
Iris and Shalom Maidenbaum
Etella and Haim Marcovici
Jennifer and Yonni Mrejen
Naomi and Steven Nachman
Altchie and Nochi Pelcovitz
Mari and Avraham Chaim Platschek
Alissa and David Pomerantz
Dr. Sarah and Albert Rabizadeh
Lisa and Yaron Reich
Tova and Gordon Rich
Karen and Shawn Rosenthal
Michelle and Eli Salig
Melodie and Martin Scharf
Daniella and Ari Schertz
Bashie and David Simon
Susan and Mendy Sokol
Rachel and Yitzy Spinner
Ariella and Ari Spodek
Estee and Dr. Arnold Stein
Orly and Alan Steinberg
Elana and Eric Sternberg
Frumee and Raphi Taubenfeld
Sharon and Mark Twersky
Leigh and Daniel Waxman
Janet and Avi Weiss 
Linda and Steven Weissman
Elana and Zach Wolf
Davida and Marc Yehaskel
Heidi and Glenn Zuckerman
NJ Benefit Chairs 
Rachel and Ivri Amar
Shira and Zack Baratz
Atara and Jonathan Chesir
Joy and Michael Goldsmith
Aviva and Dr. Yitzy Jacobowitz
Shari and Nathan Lindenbaum
Gabrielle and Isaac Markel
Michelle Nachmani
Marc Nadritch
Susan and Brett Nadritch
Batya and Nachman Paul
Dr. Alise Reicin and Robert Boiarsky
Caron and Michael Strulowitz
Eta and Isaac Strulowitz
Dr. Talia Strulowitz
Lauryn and Dr. Kenneth Weiser
Alissa and Sammy Zagha
Rebecca Zagha and Benji Markoff
Dr. Sara and Keith Zakheim
Linda and Jay Zucker
NJ Benefit Committee 
Amy and David Albalah
Shari and Dr. Robert Alter
June and Terry Aranoff
Shifra and Dani Bendheim
Suzanne and Stuart Beretz
Vivian and Stanley Bernstein
Andrea and Bryan Bier
Daniele and Steven Bleier
Barbara and Jonathan Blinken
Sarah and Michael Blum
Tammy and Danny Chesner
Sherry and Neil Cohen
Rena Cole and Ephie Bernstein
Lauren and Alexander Crane
Hattie and Arthur Dubroff
Thalia and Daniel Federbush
Lara and Dorian Fogel
Michal and Nathan Fox
Joy Furer
Adina Lewis Garbuz and Lawrence Garbuz
Michelle and David Gellman
Ilene and Jonathan Gershen
Sara and Ephraim Gervis
Amy and Daniel Gibber
Abigail and Ari Glass
Ilana and Stuart Goldberg
Talia and Sol Goldwyn
Judy Golowa
Linda and Mark Gruenbaum
Karen and Mottie Guttmann
Yonina and Greg Haber
Debbie and Raz Haramati
Suri and Marc Helwani
Sharon and Matthew Herenstein
Rachel and Danny Heumann
Shulamit and Avram Holzer
Esti and Benyamin Kaminetzky
Dina and Daniel Katz
Tammy and David Katz
Dr. Jessica and Laizer Kornwasser
Cheryl and Lee Lasher
Limor and Manny Levy
Margaret and Andrew Levy
Atara and Eric Mauskopf
Donna and Joseph A. Miele, Jr.
Dovid Mirsky
Rachel and Shlomo Mirsky
Esther and Moshe Muschel
Ellen and Michael Muss
Sara and Ira Olshin
Esther and Dr. Harold Perl
Racheli and Tzvika Poleyeff
Stephanie and Richie Pomerantz
Lawrence Rein
Zahava and Hank Reinhart
Dr. Ilana Ressler and Jared Dinkes
Gail and Binyamin Rieder
Robin and Joshua Rochlin
Ayelet and Brian Rosen
Elana and Marc Rothenberg
Brenda and David Ruditzky
Nikki Sausen
Tammi and Bennett Schachter
Lisa and Jonathan Schechter
Mali and Steven Schwartz
Simone Rudoff Semer and Mark Semer
Sari and Yaakov Sheinfeld
Chana and Daniel Shields
Lillian and Bill Silber
Dr. Marjorie and Jonathan Slass
Jennifer and Seth Sokol
Benay and Steven Taub
Chani and Jason Teigman
Dr. Micole Tuchman and Dr. Oren Koslowe
Dr. Lisa Weinstock and Dr. Ricky Finkel
Elisa and Chaim Wietschner
Becky and Daniel Wolf
Tanya and Darren Wolf
Lynne and Aaron Yunis
Dr. Jill Zimmerman and Dr. Michael Stifelman
EVENT SPONSORS (IN FORMATION)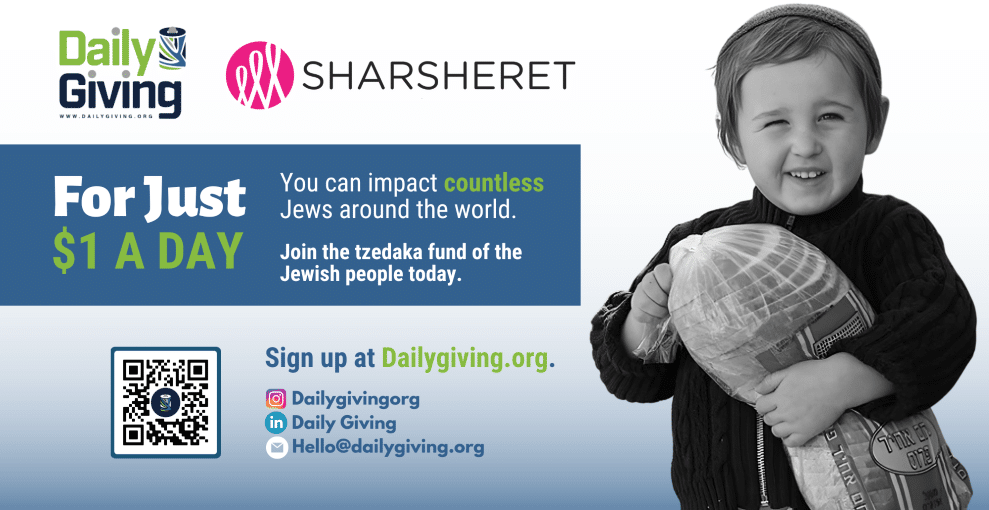 Thank you to our donors for their generous support!
PRESENTING SPONSOR
EVENT BENEFACTOR
AMBASSADOR SPONSORS
SUPPORTER SPONSOR
COMMUNITY PARTNER
To learn more about becoming a sponsor, contact Dina Muskin Goldberg at 

[email protected]

  or click here.
Sharsheret does not endorse or promote any specific medication, treatment, product, or service.