In memory of our founder, Rochelle L. Shoretz A"H, we have launched our most meaningful and ambitious fundraising campaign to date. Your gift to Rochelle's Dream will secure the sustainability of Sharsheret into the future. This new fund will fulfill Rochelle's Dream by ensuring that every Jewish woman and family, major medical center, synagogue, temple, and college campus will benefit from Sharsheret's critical cancer programs. Together with your help, no Jewish woman or family will face breast or ovarian cancer alone.
Learn more about Rochelle's Dream supporters and how you can participate »
About Rochelle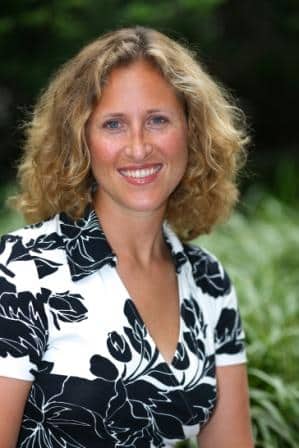 Sharsheret was founded in November 2001, four months after Rochelle Shoretz, a 28 year old young Jewish mother, was diagnosed with breast cancer. Immersed within a close-knit Jewish community in northern New Jersey, Rochelle had many offers to help with meals and to transport her sons to after-school programs. What she really wanted, though, was to speak to another young mom who was going to have to explain to her children that she was going to lose her hair to chemotherapy, and what it would be like to prepare for the High Holidays knowing she was facing a life-threatening illness. Though her grandmother had died of the disease, cancer was a taboo subject still not discussed within her family and, she soon recognized, within the Jewish community at large.
Rochelle found information about her disease in many places, but she could not find resources to help her live with breast cancer as a young Jewish woman. Literature and support groups did not target her age group nor did they address her unique concerns about breast cancer as it related to her ethnicity. Rochelle reached out to everyone she knew to help her find someone like herself. A friend of a friend introduced her to Lauryn Weiser, 31 years old, a Jewish mother of three children, and six months further along in her breast cancer journey than Rochelle. Soon, the two women were speaking every day. Realizing the positive impact of linking with a young Jewish woman like herself, someone who truly understood what she faced, Rochelle wanted to make the experience better for the young women who followed them by emulating their connection and the help they were able to give each other. She wanted a place for young Jewish women to turn during their darkest hours no matter where they lived, to find strength to face their fears, resources to address their questions, and "sisters" with whom to share in their cancer journey in ways that transcend blood ties.
Rochelle, Lauryn, and three other young women gathered around Rochelle's dining room table and Sharsheret was born. Rochelle, calling upon her experience serving as a law clerk to U.S. Supreme Court Justice Ruth Bader Ginsburg, assumed the role of Executive Director, and the other women volunteered in a variety of capacities for the first two years until Sharsheret had grown to a point necessitating a professional staff. As a resident in the Bikkurim incubator and as a Joshua Venture Fellow, Rochelle received critical training and support for her new role. From its inception, Sharsheret has received overwhelming support and recognition from the cancer, medical, psychosocial, and genetic counseling communities. What helped the organization grow, Lauryn noted, was "a tacit agreement from everybody that Sharsheret was filling a tremendous void."
In recognition of her pioneering efforts, Rochelle was appointed a seat on the Federal Advisory Committee on Breast Cancer in Young Women, named a Yoplait Champion in the Fight Against Breast Cancer, and appeared as a resource on The Today Show, national news programs, and in more than 100 media outlets across the country.
In 2007, Rochelle transitioned from her role as Sharsheret's Executive Director to once again pursue her law career. It was a recurrence of her breast cancer that prompted Rochelle to return as Sharsheret's Executive Director in 2009. Living with metastatic breast cancer, she brought a new perspective to the leadership that guided Sharsheret's next chapter.
On May 31, 2015, Rochelle passed away from complications of breast cancer, a disease for which she created a community of support for thousands.  The Sharsheret community has lost our Founder, our leader, our mentor. The Jewish world and the cancer world have lost a true champion of women and their families. Rochelle's legacy is her children and an incredible organization that only she could have built. Her passion and drive will forever remain the foundation of Sharsheret.