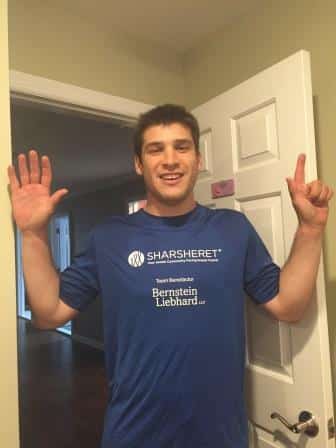 If I look tired it's because I am.  It was my first time riding 77 miles in one ride.  Why am I training?  I'll get to that in a bit.
My Mom was diagnosed with breast cancer when I was a freshman in college.  Thankfully, she is healthy today.
I needed Sharsheret.  Away from my family at school I felt helpless and scared.  These are familiar feelings for any family in a similar situation.  Our family depended on Sharsheret and I am so thankful for their support.
My parents always prioritized fun family time, exercise, and experiences.  We've taken countless bike trips together and even centered a whole vacation around time on the velocipede.  Our week spent bike packing through Banff National Park in British Columbia, CA with Backroads was as transformative as it was memorable.  Riding through the mountains enjoying expansive views, and shifting focus from wide open country side to soaring peaks still white tipped with glacial remains was a humbling and empowering experience.
For me biking is a way to be outside, to exercise, and to manipulate a machine in an environmentally friendly way. I love it.
As a resident of the Hyde Park neighborhood in Chicago I wake up every morning to the awe-inspiring shoreline of the great Lake Michigan.  This summer my parents and I will ride around the lake, 100 miles per day for ten days.  To elevate the trip I am raising money for Sharsheret.
Please consider donating to Sharsheret to facilitate their work which is invaluable.
http://sharsheret.donorpages.com/TeamSharsheret/RollinForAReason/
Thank you!