ROSH HASHANAH MESSAGE: Rising Up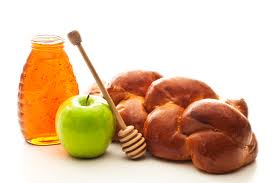 This year my resolution is to finally learn how to bake challah. I have tried, not so successfully, in the past. I am in awe of the process. I take simple ingredients -water, yeast, flour, and salt – and transform them into beautiful, delicious bread deserving of a holy blessing. But the transformation is not an easy one.
There seems to be so many choices and as a novice challah baker, I become overwhelmed. Do I choose the recipe that includes sugar or honey? Should I follow the recipe offered by my friends or family? I haven't even begun to bake and already I am overwhelmed.
I begin by putting the yeast in the water. The condition of the water has to be just right, not too cold and not too hot. And then I wait. Is the yeast taking? Do I see it frothing or bubbling? Can I trust what I see? I take the chance and move on to the next step. The flour has to be added slowly until the dough is formed. I knead the dough for what feels like forever. I place it in a bowl, where it sits covered and in darkness, and I wait again. Will it rise? I have no choice but to be patient. If it doesn't rise, I have to begin again. If it rises, I will move on to the next step. It does, and as I set about shaping the dough, I'm faced with more decisions. Should I make a three-braided challah or a six-braided challah, or perhaps a round challah at this time of year? After I shape the challah it must rise again, so back it goes under cover and into the darkness. More waiting.
It emerges from the darkness and I brush egg over my challah and place it in the oven. I am hopeful. There seems to be a light at the end of the tunnel. I inhale the delicious smell of challah as it fills my home with an enticing aroma for all who enter to enjoy, and bask in the glory of my accomplishment. I did it! I have taken these ingredients and turned them into a thing of nourishment and beauty and I have learned so much from the process.
When we are faced with illness, we can feel overwhelmed by the choices and what lies ahead. Whose guidance do we seek? Who do we trust? We are left with questions. Will these treatments work? I won't know immediately. I can only do the best that I can do. I will have to wait and see. It is hard to be patient. Not knowing can feel frightening, but it's important to remember that things can change in the darkness. Sometimes we can feel kneaded and stretched, while at other times we can experience the joy that fills our homes and our souls, like the smell of the challah in our midst.
The light at the end of the tunnel can be hopeful no matter where we find ourselves in this journey. We talk about the new normal – seeing life through a different lens after a cancer diagnosis – but in many ways, I now think about it as the new and improved normal. It is within our reach to bring meaning to our transformation.
This year, as you drizzle honey over your challah, take the time to reflect and find the sweetness in your transformation. I wish all of you a meaningful and sweet New Year.
By: Shera Dubitsky, Sharsheret Clinical Supervisor